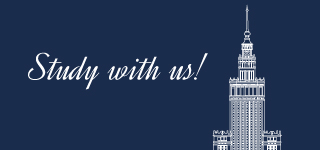 Do you know that at Collegium Civitas we offer over 20 degree programs in English? Almost 30% of Collegium Civitas student body are international students, coming from almost 70 countries of the world! What do they think about studying at our university? Take a look at students testimonies presented below. For the full version please visit: www.civitas.edu.pl/en/our-university/opinions-about-us.
Cedric from Germany: This university is a melting pot of people of different backgrounds that challenge not only your opinion, but the status quo of the world. With teachers, you develop personal relationships, they are all very approachable and amazing to learn from, but also to be challenged by students. What I learned there, was nothing less than arguing seemingly unarguable topics, understanding cultures and different points of views, and discovering the world of tomorrow.
Mo Du Thi from Vietnam: Besides studying, I also enjoyed our university's activities where I can meet new friends, discover new different cultures and places. All these things make my life more exciting. I consider Collegium Civitas a Friendly-Dynamic-Multicultural environment.
Gaurav from India: The most important thing is during the pandemic of COVID-19 the way the online classes were set up to be great. The approach of professors and the support of the administration staff never made me feel as if I am attending online lectures, with each and every lecture conducted with such great enthusiasm it clearly taught me that learning never stops!
Loise from Kenya: What is outstanding about Collegium Civitas is the determination of the lecturers. Lecturers are not just lecturers, but they are also your friends. They value their students, they respect their opinions in class, they treat their students equally without any favour or discrimination and more, so they are determined to walk their students through the journey of academic excellence.
Laura from Malta: The international groups, formed by people from all around the world, have been key to broaden my horizons and gain perspective on my studies. I couldn't have chosen a better place for my Erasmus+ exchange.
Olena from Ukraine: Studying at Collegium Civitas, I feel that I am being encouraged to expand my knowledge interdisciplinary. The topics of the courses I am entitled to taking go way beyond my academic major.
Sultanali from Kyrgyzstan: I much appreciate learning International Relations, Diplomacy and Security Studies by Professors of different fields, because attending these classes you may learn for specific field of knowledge, the field of geography and a good atmosphere among multicultural student communities from different parts of the world.
We invite you to read the full opinions by our students at: https://www.civitas.edu.pl/en/our-university/opinions-about-us and to study with us! Admissions for the 2021/22 academic year will open mid-April and we have prepared some brand new master's and bachelor's degree programs!