92% OF RESPONDENTS ARE SATISFIED WITH THEIR STUDIES – RESULTS OF THE SATISFACTION SURVEY AT COLLEGIUM CIVITAS 2020
19.11.2020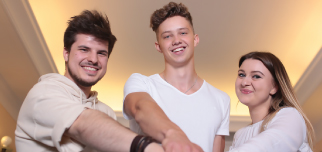 The Collegium Civitas Centre for Strategic Analysis has presented the results of their annual survey evaluating i.a. Collegium Civitas students' level of satisfaction with their studies, satisfaction with the choice of university and the sense of pride in being part of the CC academic community.
The results reflect the high level of student satisfaction with the choice of Collegium Civitas as their university and remarkably high opinions of the quality of education.
92% of students are satisfied with studying at Collegium Civitas. Obtaining an education at our university is a source of pride for as many as 77.4% of those surveyed ("definitely yes" and "rather yes" answers), and almost 91% of students surveyed would recommend Collegium Civitas to their friends ("definitely yes" and "rather yes" answers)!
Such good results are a source of pride for us also because of the exceptional conditions in which education took place in the summer semester of the academic year 2019/2020, due to the need to switch to remote learning almost immediately. This process was also highly rated by students – as many as 92.42% indicated that Collegium Civitas did well to switch to remote learning when we faced the coronavirus pandemic (responses "rather well" and "definitely good"). A high percentage of respondents (88.46%) also gave a positive evaluation of the efforts we put into the preparation of our university's lecturers to conduct online classes.
Students also highly rated the quality of education at Collegium Civitas – 90.3% rated the study program well (answers "rather good" and "very good").
Representative test, the maximum error of 3%.