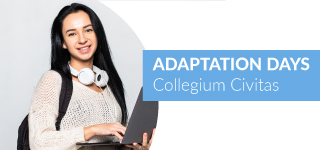 For a good start to your adventure at Collegium Civitas, Career Center invite you to meetings with the Vice-Rector for Student Affairs, the Student Council, as well as various student organizations.
During the events, you will find out why it is worth getting involved in student life, what are the student organizations up to and how to survive the examination session.
It will also be a great opportunity to meet with colleagues from higher years and learn about the specifics of studying at Collegium Civitas.
On top of that, we have prepared lectures and webinars for you, which will certainly be useful during your studies and not only.
The events are open to the public.
All you have to do is click on the selected link to connect via the Ms Teams platform, where the meetings will be held.
Below you can find the Career Centre Adaptations Days Schedule:
TUESDAY 2.03 
16:00 Meeting with Vice-Rector for Student Affairs Dr. Paweł Maranowski  https://tiny.pl/rl1sm
WEDNESDAY 3.03  
18:00 Meeting with the Student Organization of Marketing "Rozgłos" https://tiny.pl/rldd3
THURSDAY 4.03 
18:30 Meeting with the organization Student Erasmus Society https://tiny.pl/rldwj
20:00 Meeting with the Academic Sports Association of Collegium Civitas https://tiny.pl/rldfc
MONDAY 8.03
18:00 Webinar with Elżbieta Watemborska – a career advisor and HR specialist https://tiny.pl/rldfp
THURSDAY 11.03
18:00 Webinar "How to properly communicate with lecturers and administrative staff at the university" https://tiny.pl/rldf3
FRIDAY 12.03
17:30 Meeting with the Collegium "Procuratio" Student Organization https://tiny.pl/rldct
19:00 Meeting with the Board of the Collegium Civitas Student Council https://tiny.pl/rld5t
————————————————–
Microsoft Teams platform – logging in to Microsoft services (including Microsoft Teams) is done only with the login and password that you use to log in to the Virtual University. The platform is available at portal.civitas.edu.pl. We recommend using the computer version of Microsoft Teams. Please remember that in order to log in to MS Teams you should use an email with the civitas domain. At the same time, we encourage you to use the university mail in the civitas.edu.pl domain.