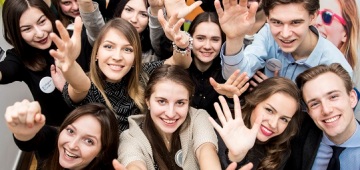 We warmly welcome the new Collegium Civitas students!
For a good start of your adventure at Collegium, we invite you to a meeting with the Vice-Rector for Student Affairs, Dr. Paweł Maranowski and representatives of student organizations at CC. It will be a great opportunity to get to know the University, get acquainted with the specificity of studying at Collegium Civitas and the possibilities of developing scientific, sports and social activity.
If you have not been to the capital for a long time or have not had the opportunity to visit it yet, we invite you on a guided tour of Warsaw. You will see the most interesting places in our city, as well as less known areas, however, that's what makes them extremely interesting!
For history lovers, we also organize visits to the Polin Museum of the History of Polish Jews. It is a place for meeting and dialogue, for all those who wish to learn more about the past and contemporary Jewish culture and learn about its place in the history of our country.
Both tours have a limited number of slots, so do not hesitate to register.
On your student emails, you will find the activity schedule organized by Collegium Civitas Career Center and Welcome Point teams.
At the same time, we encourage you to follow our Facebook profile for updates about the upcoming Adaptation Days activities.
Welcome!
Collegium Civitas Career Center and Welcome Point teams! 😊