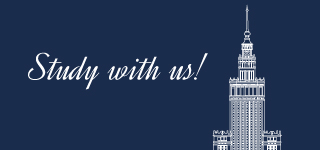 The admission for the spring semester 2020/2021 to our study programmes in English has already started! Study at Collegium Civitas and experience the highest quality of teaching in a multicultural learning community in the very heart of Warsaw! For international candidates the winter admissions deadline is February 1st, 2021.
Due to the time-consuming visa procedures resulting from the number of candidates interested in studying in Poland we strongly encourage candidates from South Asia, MENA and African countries to apply not later than January 8th, 2021.
For Polish residents or foreigners who have been granted a residence permit to settle in Poland (Karta Pobytu) the admissions deadline is February 12th, 2021.
For the summer semester you can enroll in the Bachelor's and Master's programmes in English:
Bachelor's degree programmes: www.civitas.edu.pl/en/academic-offer/disciplines-and-specialisations-ba-in-english-full-time
Master's degree programmes: www.civitas.edu.pl/en/academic-offer/disciplines-and-specialisations-in-english-ma-full-time