Alina Palamarchuk – plenipotentiary of the Students' Parliament for Cooperation with Ukraine
27.01.2023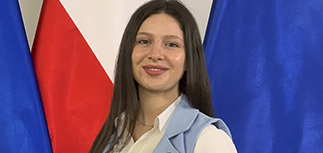 It is our great pleasure to inform you that Ms. Alina Palamarchuk, an International Relations student at Collegium Civitas (master's degree studies), the President of our Student Council, who is always supporting our students and participates in many activities, was elected the Plenipotentiary of the Students' Parliament of the Republic of Poland (PSRP) for the Cooperation with Ukraine.

Her responsibilities will be, inter alia:
Monitoring the situation of Ukrainian students in Poland;
Representing the Ukrainian students;
Establishing contacts and coordinating the cooperation with representatives of the Ukrainian Student Union and other organizations.
Congratulations!