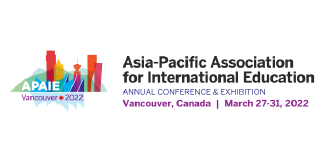 Between March 27 and March 31 APAIE conference was held. APAIE is a prestigious international event bringing together thousands of professionals in the field of education. The programme featured a session on Sustainable Development Goals with presentations by Collegium Civitas Vice-Rectors: Dr Katarzyna Maniszewska and Dr Roland Zarzycki.
The session with participation of Dr. Maniszewska and Dr. Zarzycki was chaired by Prof. Masahiko Gemma, APAIE Director and Vice President for International Affairs from Waseda University, Japan.
"At Collegium Civitas we have been developing dynamically our international outlook and the presence at APAIE gave us yet another platform to share our ideas and experience in internationalization." – says Dr Maniszewska, the Vice-Rector for International Relations.
"More and more of our students come from the Asia Pacific, we venture into new partnerships with universities from the region. The presence at APAIE is a natural path for us to follow" – adds Dr Zarzycki, the Vice-Rector for Academic Affairs.
Dr. Roland Zarzycki who holds two Ph.D. titles in philosophy and mathematics focused in his presentation on "International Education and SDGs in the Light of Transforming Attitudes."
"Despite global efforts to achieve the SDGs, our development remains unsustainable in many dimensions. Numerous reports attempt to establish the reasons for the shortages. Research carried out in Poland seems to indicate that the main factor behind insufficient pro-ecological mobilization is insufficient knowledge. At the same time, there are official ongoing deliberations on environmental education at an academic level." – says Dr Zarzycki. He argued in his presentation that not knowledge but shaping attitudes and dismantling false rationalizations are the two factors of key importance for a successful green change.
Dr Katarzyna Maniszewska who is an expert in security issues presented the topic "All for Peace. International Learning Communities and SDG-16". "When I submitted the presentation topic, I didn't think that we will be soon facing a war in Europe" – says Dr Maniszewska. "The role of higher education as a peacebuilding tool is perhaps more important than ever." – adds Dr. Maniszewska. In her opinion, education, including media literacy is a crucial element of countering violent extremisms, complementary to military and intelligence actions. Dr Maniszewska pointed out that SDG-16 can be one of the strategic goals for Higher Education Institutions and that universities can be an invaluable ally for the UN and governments worldwide in implementing SDG-16.
The APAIE Conference and Exhibition brings together thousands of professionals from across the globe to the Asia-Pacific region to network, improve professional skills and learn about new developments in international education. The 2022 edition's main theme was "Brave New Realities for Higher Education in the Asia Pacific. The conference was held online, the next edition is planned to be held on site in Bangkok.
More information about APAIE2022: https://apaie2022.net