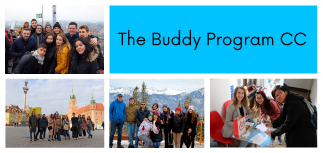 We are delighted to welcome you to Collegium Civitas and invite you to join our Buddy Program, created to help international students in their adaptation to a new place.
Each new student can get a Buddy (Collegium Civitas student), who will provide all necessary information about the university and Warsaw, and help with various issues (finding the accommodation, Polish administration, public transport, etc.). It is a person you can grab a cup of coffee with and talk about life.
If you feel like you don't need a student to help, our team also organizes many integration events, such as city tours, dinners, journeys to different cities, and more!
If you are interested in broadening your horizon, meeting new people, improving your language skills, and exploring new cultures, join the Buddy Program to have an unforgettable year full of great memories!
We are excited to meet you in the new academic year!