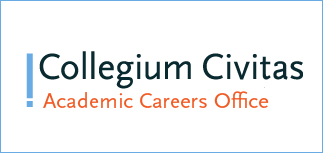 From January 1, 2023, Career Center Collegium Civitas will run under the new name Academic Careers Office (ACO) at Collegium Civitas. The change is not only a new name for the unit but most of all its goal is to increase emphasis on connecting the academic world with business. New ACO will continue to operate as the platform for communication and meetings for Students and Graduates with employees.
"Academic Career Offices are institutions of the labor market, which at the same time operate within university structures – the name change seeks to emphasize the nature of this special relationship. We also plan to increase our involvement in the activities of the ABK Committee at KRASP (Conference of Rectors of Academic Schools in Poland) and in the Mazowiecka Network of Career Offices" – explains Dobrosława Choryńska – Chudy, the head of Academic Careers Office at Collegium Civitas.
The head of ACO also emphasizes how important it is to use study time to gain an advantage in the labor market: "Ideally, the future professional work is related to the previously chosen academic path. However, at the moment, what counts for employers is not only the knowledge gained from studies but also activity in student organizations, volunteering, workshops and practical knowledge gained as part of them.
As before, the offer of the Academic Careers Office will include free industry and development courses, workshops, training conferences and job fairs. Additional support in finding internships, apprenticeships and employment can be obtained during meetings with a career advisor, labor market lawyer or psychologist.
Over the last two years, the Career Center has organized almost 100 meetings with employers and webinars on the labor market. The crowning achievement of the completed activities will be the launch of the Collegium Civitas Careers Office Academic Portal in the near future. As Dobrosława Choryńska-Chudy emphasizes: "we plan that it will be a place where we will collect important information for all parties: Employers, Students and Graduates. We hope that in this way we will facilitate communication between the labor market and the academic world. We want our Students and Graduates to enter and move around the labor market aware of their competencies, which they can use to build a satisfying career path."
Contact address of the Academic Careers Office of Collegium Civitas: abk@civitas.edu.pl. Name addresses of ACO CC employees remain unchanged.