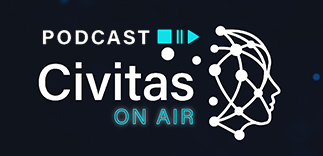 We are pleased to present to you two episodes of our academic podcast Civitas on Air in English.

Our special guests were Dr Kerry Longhurst and Dr Agnieszka Nitza-Makowska. 
Should Ukraine, Georgia and Moldova join the European Union? One side of the debate sees that a fast-tracked EU membership deal is the best way to help these countries become secure and prosperous, especially in light of Russia's invasion of Ukraine and Moscow's possible further regional ambitions. However, another argument sees that these states' fragile democratic systems, and problems associated with widespread corruption and weak rule of law mean that they are a long way from meeting basic EU membership criteria, and should therefore, not be allowed to join too quickly without sufficient conditions and stringent backstopping.
The guest of this episode is Dr. Kerry Longhurst, an expert on Eastern Europe, who talks to Dr. Agnieszka Nitza about the effect of the war in Ukraine. Listen to our timely podcast and make up your mind on the EU's enlargement conundrum!
Though Beijing does not back the Kremlin militarily, it has lent diplomatic and rhetorical support to Russia and its war in Ukraine. One of the key questions that arises from this, is whether China's professed 'neutrality' is going to affect its reputation and lead to 'soft power' losses, which is a type of power that China undoubtedly cherishes. This podcast looks at how China has gained significant creditability in international relations over the past decade, especially in the spheres of climate and environmental governance. For example, Beijing has taken a seemingly proactive role in leading international climate regimes and has also instigated ambitious carbon neutrality goals at home.  
Dr Agnieszka Nitza-Makowska, an expert on China, soft power and environmental diplomacy, discusses Beijing's behaviour and international responses with dr Dr. Kerry Longhurst. Listen to our timely podcast and develop your understanding of China's role in international relations! 
Civitas on Air is a podcast on social, political and international relations issues prepared by researchers from Collegium Civitas in cooperation with student radio station Radio Pałacc. We believe that scientific research can be interesting not only for scientists, and popularization of knowledge is just as important as gaining it. 
You can find us on Spotify, Anchor, Google Podcasts, Apple Podcasts, PlayerFM and our website.