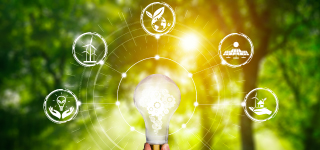 Collegium Civitas consistently undertakes actions for sustainable development, through research, strategic partnerships and various educational initiatives.
As an academic community, we see the challenges of the future related not only to climate change, but also to other sustainable development goals set by the United Nations. We respond to them by undertaking scientific research, educating next generations of specialists in the field of sustainable development and promoting the idea of social responsibility on an individual, institutional and business level.
One important issue in this context – which is now widely discussed both in the media and in academia – is gender equality. The rector of Collegium Civitas, Prof. Stanisław Mocek, made the following statement during the recent inaugural ceremony of the academic year:
At Collegium Civitas, we have always treated and continue to treat every person, regardless of gender, origin or religion, equally and with respect. Moreover, I can say with satisfaction that – even without specific policies in this area – we are a university where gender equality has been in force since the beginning of our existence, and whether someone is a woman or a man has never been a criterion in recruitment or competitive hiring. The first rector of the university was Prof. Jadwiga Koralewicz, who currently serves as the president of Collegium Civitas; out of 10 people in the Rector's Team, there are 7 women; and among departmental heads, there are 9 women and 5 men.
Our mission statement stipulates that we are a multigenerational and international university, and that we endeavour to provide the highest level of education to future leaders of social, political, and economic life in Poland and abroad. These leaders are an entrepreneurial and creative generation, open to the multicultural heritage and challenges of today, while at the same time perceiving the world in terms of social needs and the common good. We believe that particularly in times of uncertainty and change – exacerbated by the ongoing Covid-19 pandemic, as well as the observed flood of fake news and other types of manipulation – the voices of academia, scientists and experts should play an important role. Therefore, we consistently support activities for sustainable development.
Cooperation with the United Nations
We were the first Polish university to sign a cooperation agreement with the United Nations Institute for Training and Research (UNITAR). The scope of cooperation will include training and postgraduate programmes, conferences and joint publications. The signed agreement resulted in this year's edition of the Summer School programme "Security and Society in the Information Age", implemented in cooperation with UNITAR. We are proud to collaborate with UNITAR. At Collegium Civitas, the United Nations Sustainable Development Goals are an important part of our degree programmes. We see our students as future leaders who can contribute to the achievement of these goals, explains Dr Katarzyna Maniszewska, Vice-Rector for International Relations at Collegium Civitas and director of the Summer School Program. More information on the signed MoU can be found here: https://www.civitas.edu.pl/en/our-university/news/collegium-civitas-signs-memorandum-of-understanding-with-unitar
We also work with UN Global Compact Polska, a UN agency working for sustainable business, which includes the implementation of joint projects (Friday Films with UN Global Compact), and academic cooperation (UN Global Compact Polska experts conduct classes for 1st and 2nd cycle degree students and postgraduate CSR Manager students).
Spreading ideas, raising awareness, shaping attitudes, i.e. education in favour of sustainable development  
The primary responsibility of any university is to teach students, to support their personal and professional development, but also to foster idealistically engaged, conscious, entrepreneurial and responsible attitudes. It is through its educational programmes, countless lectures and workshops, talks and meetings conducted as part of the curriculum, that Collegium Civitas takes on responsibility – social responsibility – thus promoting the values enshrined in the university's mission statement. In today's world, sustainable development is one of the most important concepts that organize research and critical reflection in the field of social sciences. This issue, therefore, is not only presented and analysed alongside a number of other socio-economic concepts, but also permeates the entire reflection on the condition of contemporary societies and economies.
As Dr Roland Zarzycki, Vice-Rector for Pedagogy at Collegium Civitas, says,
How can we change the world? The American sociologist, Jeffrey Goldfarb, notes that the most important in this process are conversations at the kitchen table in our family homes, where in an atmosphere of trust and kindness, we talk among our loved ones about values and things that are significant to us. Such conversations shape our attitudes, and these, in turn, lead to our actions. Higher education, carried out in an atmosphere of trust and kindness, should deepen our understanding of the reality around us and develop the ability to think critically about it. Thanks to such an education, we should become smarter, more competent, but also less cynical and more responsible for the sustainable development of our planet.
Scientists with a passion for sustainable development
Collegium Civitas has been conducting scientific research on areas included in the UN Sustainable Development Goals for several years—it is in fact one of the leading centres of scientific reflection on the subject in Poland. An example is the WISE (Widening Interdisciplinary Sustainability Education) project, implemented in an international partnership to raise the awareness of academic lecturers about the UN Sustainable Development Goals. As a result, a textbook was published edited by Katarzyna Iwińska (Collegium Civitas), Michael Jones (Swedish University of Agricultural Sciences, SLU) and Magdalena Kraszewska (Collegium Civitas).
The co-author of the textbook, Dr Katarzyna Iwińska, a sociologist from the Institute of Sociology and Vice-Rector for Research at Collegium Civitas says,
We were accompanied by the slogan 'Sustainable development starts with teachers!' I still believe that it is up-to-date and relevant to 'education', in its broad understanding. The textbook is targeted towards lecturers, but also teachers, NGO activists, academics and anyone who wants to teach skills and competences to solve social and environmental problems. Of course, I strongly encourage you to use and be inspired by the cases discussed there. The textbook has been designed to educate the most important competences necessary for society to face the challenges of global change. These are: systemic thinking; interpersonal, normative and strategic competences; and anticipatory skills. 
The textbook is available online at: http://www.handbook.wiseproject.info/. The PDF version can be consulted here: https://www.civitas.edu.pl/wp-content/uploads/2015/03/Widening-Interdisciplinary-Sustainability-Education-light.pdf).
In the framework of WISE is another project implemented with the support of European funds called the Partnership for Sustainable Development and Social Innovations (PASSION). It is led by experts from Collegium Civitas (from the Institute of Sociology and the Department of Management) in cooperation with universities from the United Kingdom, Sweden, Iceland, Greece and Portugal. You can read more about the project on the website  http://passion.civitas.edu.pl/.
PASSION is a project that represents a holistic approach to the UN Sustainable Development Goals, but Collegium Civitas also implements projects in specific areas, such as the project "(Non) Attendance List. Disability in School Textbooks" carried out under the supervision of Dr Marta Sałkowska. It won the PFRON competition for research, analyses and expert opinions on vocational and social rehabilitation of people with disabilities.
The university in the process of change
In 2019 we also joined a group of signatories of the University Declaration of Social Responsibility. This document contains obligations regarding scientific work ethics, supporting the idea of responsible development and promoting the policy of a university social responsibility. Collegium Civitas implements these aspects not only through academic education of students, but also through multi-generational education and the implementation of the above-mentioned scientific projects, which disseminate knowledge to various social groups, thus providing for better, more conscious and responsible functioning in the modern world.
As a result of the accreditation process in the past academic year 2019/2020, Collegium Civitas was awarded the Journey to Changemaker Certificate from the international organization Ashoka. Consequently, as the second university to achieve this in Poland, we have joined the largest network of entrepreneurial and socially engaged universities, which brings together over 65 scientific and educational units from around the world. The positive result of the certification process has enabled us to join a group of universities from around the world associated with the #MillionsofChangemakers idea. We want to show our students the opportunities and areas that can influence positive changes in the world, and equip them with the necessary competences in this area, i.e. changemaker skills, points out Prof. Małgorzata Baran, Vice-Rector for Strategic Development at Collegium Civitas, responsible for coordinating the accreditation process on behalf of the university. You can read more about the certification process at  https://www.civitas.edu.pl/en/our-university/news/collegium-civitas-with-ashoka-accreditation