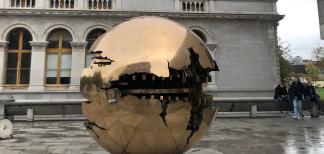 In October 2022 Mrs. Ilona Głowacka, Senior Specialist for International Cooperation participated in the Global Learning Summit. The purpose of the event, hosted by the Trinity College in Dublin, was to support and enable organisations unlock the transformative power of learning using applied research, innovative practices, and technology.
The Learnovation Summit was organized by the Learnovate Centre, Trinity College (https://www.learnovatecentre.org), one of Europe's leading research and innovation centers in learning technologies located at the Trinity Technology & Enterprise Campus.
"From all the presentations and panel discussions it was clear that the technological and scientific exchange is 'a must have' on the future educational & knowledge market." – says Mrs. Głowacka.
"The Learnovation Centre by Trinity College is a great example of collaboration between the academia and business in order to boost innovations and, in consequence, the economy" – adds Mrs. Głowacka.
Collegium Civitas was invited to participate in the Summit by Enterprise Ireland (https://www.enterprise-ireland.com/en/About-Us) – government organisation responsible for the development and growth of Irish enterprises in world markets.