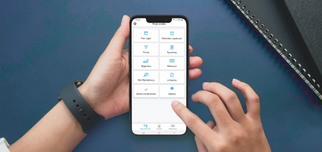 We are pleased to announce the launch of the mStudia mobile application. We invite Collegium Civitas students to download the app that facilitates contact with the university and the use of student services. We also encourage lecturers to use the application.
Thus far, access to the e-systems was provided by the Virtual University website. Now, students and lecturers of Collegium Civitas can use the mStudia app provided by the company PCG Academia. The app can be downloaded from the Play Store and AppStore.  The tool is adapted to the needs of persons with disabilities (WCAG 2.0 standard).
Functionalities of the application for students
The application provides mobile access to current information about the course of studies and facilitates communication with teaching and administrative staff of Collegium Civitas. After logging in, the user gains direct access to information regarding, inter alia, deadlines and exams, grades obtained and timetable. Combining the timetable with your mobile phone calendar allows you to receive notifications, e.g. about the beginning of classes. Students of Collegium Civitas in the mStudia application can check the status of financial settlements, payment dates and previous payments, as well as the status of their scholarship applications. The availability of contact details of lecturers (next to the name of the lecturer there is an icon enabling sending an e-mail) facilitates communication with the lecturers. In the application, you can also check contacts to the University's administrative staff, general information etc.
Application functionalities for lecturers
After logging in, the lecturers gain access to the schedule of their classes. They can check the details – such as location of classes or set notifications. The lecturer can send group and individual messages to the students via the application – similar to sending by the Virtual University. It is also possible to enter grades into protocols directly in the app.
The mStudia application is constantly being developed – new functionalities will be added successively, both for students and for lecturers. In addition, for Polish citizens, the university has introduced the mLegitymacja app, which is interconnected with the mObywatel system provided by the Polish government.