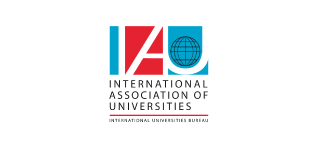 We are proud to announce that Collegium Civitas has been accepted as a member of the International Association of Universities. Founded in 1950, under the auspices of UNESCO, the International Association of Universities (IAU) is the leading global association of higher education institutions and organisations from around the world.
"Collegium Civitas is constantly strengthening its international outlook, and the membership in IAU is a natural path for us to follow." – says Dr. Katarzyna Maniszewska, Vice-Rector for International Relations, Collegium Civitas. IAU works to enhance higher education community's role and actions in advancing societies worldwide. It brings together members from more than 130 countries for reflection and action on common priorities.
"IAU is one of the oldest and most prestigious global associations of higher education institutions, created in 1950 under the auspices of UNESCO. The values it represents are fully aligned with Collegium Civitas' mission." – explains Dr. Maniszewska.
IAU acts as the global voice of higher education to UNESCO and other international higher education organizations and provides a global forum for leaders of institutions and associations. IAU is an official partner of UNESCO (Associate status) and has been given special consultative status by the UN Economic and Social Council (ECOSOC). IAU was also granted the participatory status with the Council of Europe. IAU aims to be the most representative and influential global association of diverse higher education institutions, promoting and advancing a dynamic leadership role for higher education in society.
Collegium Civitas was the first Polish university to partner with United Nations Institute for Training and Research (UNITAR), and has just launched a joint master's degree programme in Strategic Peace and Conflict Studies. We also work with UN Global Compact Polska, a UN agency working for sustainable business, which includes the implementation of joint projects (Friday Films with UN Global Compact), and academic cooperation (UN Global Compact Polska experts conduct classes for 1st and 2nd cycle degree students and postgraduate CSR Manager students). In 2019 we also joined a group of signatories of the University Declaration of Social Responsibility. Collegium Civitas is one the leaders in internationalization with over 100 partner universities, numerous international projects, over 20 degree programmes in English and students from around the world – currently 68 countries are represented among our student body.
Learn more about the International Association of Universities: https://www.iau-aiu.net