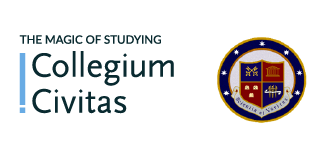 In September 2021 Collegium Civitas and Grigol Robakidze University signed an Academic Exchange Agreement enabling exchange opportunities for students and staff, the development and promotion of joint research and training programs, as well as organization of symposia and scientific conferences.
Grigol Robakidze University is a Private Research University, established in 1992 in Tbilisi, Georgia. The University has research institutes of Philosophy and Social Sciences, Public Administration, Criminology, History and Geography of Georgian Emigration, Law, and several scientific centers and laboratories. It offers Bachelor and Master programs in five schools and departments: Business and Management (since 1992), Law (1992),
Humanities and Social Sciences (1992), Medicine (1995) and Public Administration and Politics (2012).
Graduates of the University have opportunity to meet with the demands of the labor market, as most of the academic programs are of multidisciplinary character. The University performs its activities considering the labor conjuncture and the society's needs. Consequently, the mission of the University is to contribute to the country's integration in the global economic, political and cultural space, formation of valuable information-oriented society and development of knowledge-based economy to prepare competitive specialists, persons with sense of citizenship, national consciousness, having democratic and liberal values, and with awareness of Georgian and World culture values.
The University gives opportunity to all students having different capability to fully realize themselves and create successful career. The data of UNESCO International Institute of Education proved all the above mentioned – the University is among the top five higher educational institutions in terms of the graduates' employment.
In 2012 Grigol Robakidze University was accepted into the Microeconomics of Competitiveness (MOC) affiliate network of the Institute for Strategy and Competitiveness at Harvard Business School.
Collegium Civitas is a modern non-state University founded in 1997 by a joint initiative of Professors from the Polish Academy of Sciences. The quality of education in all fields of study is confirmed by positive assessments by the Ministry of Science and Higher Education and the Polish Accreditation Committee. Collegium Civitas holds top positions in the national rankings of Universities in Poland and offers academic programs in English, Polish and bilingual Polish-English in the four main fields: International Relations, Sociology, Management and Journalism and New Media, among them over 20 master's and bachelor's degree programs in English. With a large number of lecturers from renowned universities, students from over 50 countries, numerous projects with universities from around the world and a wide range of studies in English, Collegium Civitas is a leader in the field of internationalization. The University has over 100 agreements with partner universities from around the world. With the Academic Exchange Agreement signed with the Georgian Grigol Robakidze University Collegium Civitas further strengthens its international outlook.