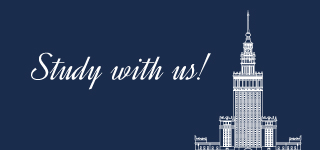 The admissions to our study programmes in English are open and for the academic year 2021/2022 we prepared brand new programmes, including: Digital Society: Transformation and Research. This master's degree programme offers students courses essential to successfully working in today's digital society, high-tech business, multicultural  communications and decision-making; intelligent, future-coming, and intercultural arenas of New Technology.
The field of study taught under Sociology Department is prepared for humanists who will work in the digital world and in times of radical technological innovations. Subjects related to new technologies and programming are fully adapted to the humanistic mind.
This specialization is the only one of its kind throughout Central and Eastern Europe. It is a tool to work in any place in the world where problems of human-machine-awareness-development arise. It is a tool for future scientists who will change the development of the world with unique research, business and leadership knowledge.
The programme is taught  at Collegium Civitas – in Warsaw, the dynamic capital of Poland. Collegium Civitas refocuses from academia's traditional theory to applied learning in a laboratory simulated high-technology social and business environment.
Lecturers are internationally active practitioners and specialists. The programme offers hands-on experience working with intercultural innovations project groups and business partners, experience conducting cyber research in virtual society, designing tangible communication and management plans, analyzing real risk of future-coming technology and cyber-generation society benefits and challenges.
Students will graduate from this programme knowing how to create and manage an entire cognitive knowledge used to change social life and health and predict intelligent technology and digital society developments.
Learn more about the programme& apply: www.civitas.edu.pl/en/academic-offer/digital-society-transformation-and-research-ma-full-time-english