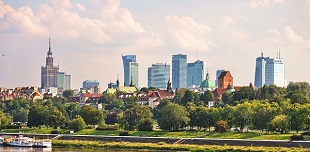 Warsaw is a vibrant city with rich cultural life. This extraordinary city has a rich history, many unique places and an unusual aura. Warsaw –  the city of kings, the Paris of the East, almost completely destroyed during World War II, the city literally arose from the ashes. Situated on the Vistula River, the capital of Poland impresses with its diversity, stories and mysteries. Do you know why its symbol is a mythical mermaid? Discover the legend of Wars and Sawa! Are you fascinated by contrasts? Discover a place where 'old' meets 'new'. This city has a lot to offer and is definitely worth exploring. Let's begin now!
8 Magical Depictions of Polish Legends
The Most Famous Polish Myths, Legends, and Folklore
THE OLD TOWN
The Old Town of Warsaw is a magical place that takes everyone back in time. Just listen, and you can hear
the whispers of the past. This city has a long, difficult but also extraordinary history. It has seen and experienced
a lot. The Old Town captivates not only with its views but also with its story. A very interesting way to get to know the Historic Center of Warsaw is by taking a guided tour. The free walking tours take place every day and offer several captivating routes. When discovering the old town, you must take a horse-drawn carriage ride, see the Sigismund's Column, discover the colourful tenement houses and admire the Royal Castle.
And since we are already moving in time, why not go and meet the rulers of the old days and feel the royal atmosphere? Walk Along the Royal Route!
THE ROYAL ROUTE
If you want to feel the spirit of old Warsaw, this trip is a must! Warsaw's famous Royal Route is practically an open-space museum and links the series of old royal residences, parks and churches. It begins at the Royal Castle (Castle Square) where the Old Town ends and goes in southern direction along Krakowskie Przedmieście connecting the following sights:
Royal Castle
St. Anne's Church
Presidential Palace
Historic building of the University of Warsaw
Holy Cross Church – It is a place where the heart of the world-famous composer, Frederick Chopin, is immured in one of the pillars!
Staszic Palace
Wilanow Palace
And that's not all!
THE SECRET ROOFTOP GARDEN
Living in a big city, it is important to find a zone of relaxation, silence and contact with nature. Warsaw has many parks and gardens, and one of the most unusual is the garden located on the roof of the new building of the University of Warsaw Library (Powiśle disctrict). This is one of the largest roof gardens in Europe! It is a unique green place with a beautiful view of the city. There you will find many species of flowers, trees and even streams and ponds. Moreover, you can feel free to have a picnic on the grass – it is allowed there. Do you need a moment of relaxation in the bosom of nature, an escape from the city noise, or maybe you want to feel like the character from the novel The Secret Garden? You must discover this place!
BECOME A TREASURE HUNTER AT THE FLEA MARKET
Markets have existed as long as humans have engaged in trade, and in Poland, it is still a living tradition. The two most popular flea markets in Warsaw are Bazar na Kole and Olimpia. You will find unique "little gems" there – hand-made pottery, old classical furniture, regional products, antiques, jewellery, books and other vintage stuff with a unique history. You will feel the unusual atmosphere, meet interesting people and discover the passion of a treasure hunter! Prices are also affordable, and in many cases, you can haggle. Trading takes place in the morning, so be there between 8.00-11.00 am and hunt your treasure!
Bazar na Kole – Obozowa 99
Olimpia – Górczewska 56/60
TIME TRAVEL AT THE FOTOPLASTIKON
Fotoplastikon is a unique invention with a rich history. This device was popular in Europe in the late 19th and early 20th centuries. Currently, there are not many of them. The Warsaw Fotoplastikon is an extraordinary place that enables an archival journey through pre-war Poland. It is a window into the past but also a meeting place where you can feel the magical atmosphere of Art Nouveau Warsaw. Spend the day in an original way, put away your phone and computer and go back in time! In Fotoplstikon you will not only see the unique photos but also listen to hits of the time played by a gramophone, watch a film or listen to an intimate concert!
Address – Al. Jerozolimskie 51
MAKE THE MOST OF THE SEASONS
The seasons are like a clock that sets the rhythm of life on Earth. Each one is different, unique and brings important changes. Warsaw varies with the seasons, and each of them brings new opportunities. You can do and experience different things in winter, spring, summer or autumn, so make the most of the seasons!
Praga is a district of Warsaw, located on the east bank of the Vistula river. It is known for its bohemian vibe, street art, but also rich history. The Night of Praga is held in September with countless events, concerts, art exhibitions, performances in galleries and cafes around Praga. But you can visit Praga any time of the year!
 WINTER – ROYAL GARDEN OF LIGHT
Light is a symbol of hope and life. We need it so much, especially in winter, when the world is shrouded in white. The Wilanów Palace has an amazing garden that each winter turns into a magical place, full of colourful lights cheering the cold and grey season. It is an astonishing spectacle of colours, shapes and sounds. The whole garden, plants, alleys, fountains and sculptures are made of light! You can't miss it!
Address – Stanisława Kostki Potockiego 10/16
MUSEUMS NIGHT
Have you ever dreamed of a night walk in a palace or museum? In Warsaw, it's possible and it's free! It is the one night of the year that many of the museums, palaces and galleries are open as late as 2 am, but what's more important, many of these institutions allow entrance into areas that are usually closed to visitors. Just imagine a night walk around the royal palace! Everything looks more magical. The Night of Museums will be an amazing experience! We encourage you to discover the museums of Warsaw – not only during the Night of the Museums 🙂
POLIN – Museum of the History of Polish Jews
CHOPIN CONCERTS at the Royal Łazienki Park

Classical music is a treasure of European culture. It works amazingly on the senses, mind and helps to relax. What if you can combine it with communing with nature? It's possible in Warsaw! A palace by the lake, a beautiful park and talented musicians performing stunning pieces of a world-famous Polish composer Fryderyk Chopin. It's all within your reach! Don't miss the Chopin concerts!
VISTULA RIVER
Warsaw is located on the Vistula River, which has been the city's life-giving force for centuries. This river has great beaches where you can feel like you are at the seaside! Take a blanket, sunglasses and go to the Vistula River with your friends to enjoy the outdoor leisure! And if you get bored of the beach, you can always go to a nearby restaurant or take a boat trip. Parties and other interesting events are also often organized there.
LAST BUT NOT LEAST: THE PALACE OF CULTURE & SCIENCE
It's hard to describe this place in one sentence. The building itself has a long history and is an interesting architectural object. The Palace of Culture and Science is constructed in a socialist-realist style, which is especially visible in the sculptures surrounding the entire building. Each of them symbolises a different field of science and art. At the top of the palace, there is an observation deck from which you can admire a beautiful panorama of the city. It is here that Collegium Civitas is located (12th floor), but you can find here also a cinema, a swimming pool, cafes, theatres and museums. It's also a place of many interesting events – concerts, exhibitions, shows. Discover this place!
Address – Plac Defilad 1
By Marcela Sieradzka