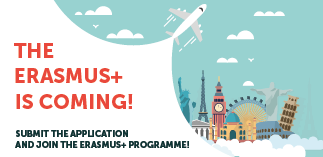 Would you like to study at one of our Erasmus+ Partner Universities in the winter semester of 2022/23? Apply for a scholarship under the Erasmus+ program.
Successful applicants will receive an Erasmus+ monthly scholarship (amount varies depending on the country, approx. 450-520 euro/month) and will be entitled to a reduction in tuition fees at Collegium Civitas (20% discount in tuition fee for the semester spent abroad).
Application deadline: March 15, 2022
Check your eligibility:
Rules of Student Mobility Programs
Check qualification criteria:
Appendix to the Rules of Student Mobility Programs
Find out about our Partner Universities' programs, language requirements, admission deadlines:
Erasmus+ Partner Universities 
2022/23 there are also Erasmus+ scholarship and mobility opportunities to countries outside the EU:
Winter semester 2022_23 – non-EU Partner Universities
Note! The list of partner universities will be updated by March 1, 2022. Check updates before you submit your application.
Information about the rules, partner universities and application procedures is also available in your student account (wu.civitas.edu.pl: section Useful Information, section International Cooperation).
Required application documents:
application form (available on wu.civitas.edu.pl)
Proof of language proficiency
Personal statement (one page) about your motivation to participate in the Erasmus+ program
confirmation of work done for Collegium Civitas or active participation in student organizations at CC (optional)
copy of student ID card
Submission deadline: 15.03.2022
The applications will be evaluated by the Qualification Committee, and students will be notified via email about the results. Successful candidates will be nominated to the Partner Universities of their choice, and as a next step, they will register at the receiving university according to its admission procedure.
More information: www.civitas.edu.pl/en/erasmus
For further information please contact:
Ms. Anna Jachimiak
Erasmus+ Coordinator at Collegium Civitas
anna.jachimiak@civitas.edu.pl
+48 22 6567160