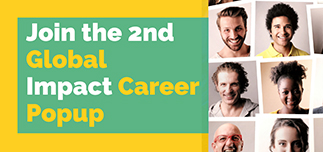 Join the Global Career Impact Popup on June 16th – the largest international career development event in the field of international affairs, social change, conflict development, resolution, and peacebuilding.
We are happy to announce that among the speakers will be Katarzyna A. Przybyła, head of the Strategic Peace and Conflict Studies program at Collegium Civitas. 
Join the world's most talented innovators and organizations working at the forefront of impact careers. Combine experience, reach, and creativity in a highly interactive & engaging online event with hundreds of professionals and students striving to combine purpose and their career. 
Attend highly interactive workshops, meetups, get drop in career support, and walk away with new ideas, connections and strategies for all things careers of impact and change. 
WHY ATTEND:
Learn from leading impact professionals
Network with peers and organizations from around the world
Support organizations doing innovative work with refugees and migrants
Learn about the key trends and opportunities in social change and social impact careers
Receive tons of resources to help you in your next step of your career