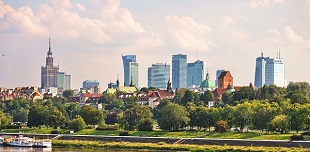 We invite candidates from all over the world to apply for the unique Master's degree program "International Security Studies" (ISS). And we are happy to announce that there are 2 places with covered tuition available for candidates from Central Asia (former USSR countries).
ISS is designed to train future leaders in the field of security, who will be prepared to effectively face the ever changing security challenges in the interconnected world of today. The program includes such topics as cybersecurity, hybrid conflicts, negotiations and conflict resolution, soft power & smart power in international relations. The program lasts for 2 years (4 semesters), English proficiency is required from the candidates. Discover more about the studies program.
After having successfully completed this program, students will be granted a diploma of Magister (Master's degree) in International Relations, specialization: International Security Studies.
See here how to apply. The admission deadline for international candidates is September 2, 2019. There are two places with covered tuition for the full study course (4 semesters) available for candidates from Central Asia (former USSR countries): Kazakhstan, Kyrgyzstan, Tajikistan, Turkmenistan, Uzbekistan. Candidates interested in the scholarship apply no later than by August 18, 2019 11:59 PM (GMT+2).
International Security Studies are run the auspices of the Terrorism Research Center. The program is supported by the Polish-U.S. Fulbright Commission.