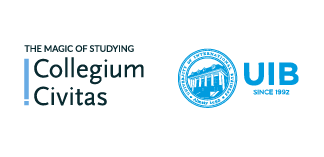 In November 2021 Collegium Civitas and Kenzhegali Sagadiyev University of International Business (UIB), Almaty, Kazakhstan signed a Memorandum of Understanding to further enable collaborative work on exchange opportunities for students, staff and faculty members, development and promotion of research collaboration, the development of double degree program and training programs, such as short term study abroad programs as well as organization of joint symposia and scientific conferences and other academic meetings.
Kenzhegali Sagadiyev University of International Business (UIB) is a 29-years old private university, accredited by the Ministry of Higher Education of the Republic of Kazakhstan, Austrian Quality Assurance agency (AQ), FIBAA with 23 BA programs, 16 MA, 4 PhD and MBA programs. The number of degrees and their level gives UIB full university status. UIB degrees are taught in Russian, Kazakh and English over 3,000 full time students.
Collegium Civitas is a prestigious university in the vibrant city of Warsaw, in Poland, European Union. The university offers high-quality bachelor's and master's degree programmes taught in English. Journalism & New Media, Management, Digital Commerce, Sociology, International Relations, Security Studies, Media & Diversity, Diplomacy, PR, English Studies, Peace & Conflict and many more. Collegium Civitas is a member of the International Association of Universities and the Conference of Rectors of Academic Schools in Poland. The university holds the Erasmus Charter for Higher Education and is among the leaders in internationalisation of studies (ranked 5th among all higher education institutions in Poland).