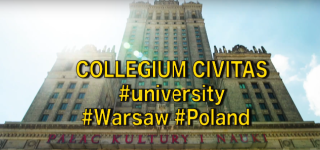 Open the door to your future! Collegium Civitas is a prestigious university in the vibrant city of Warsaw, in Poland, European Union. We offer high-quality bachelor's and master's degree programmes taught in English. Admissions  for the academic year 2021/2022 are open.
At Collegium Civitas you can study Journalism & New Media, Management, Digital Commerce, Sociology, International Relations, Peace and Conflict Studies, Security Studies, Media & Diversity, Diplomacy, PR, English Studies and many more!
We are a member of the International Association of Universities and the Conference of Rectors of Academic Schools in Poland. We hold the Erasmus Charter for Higher Education and we are among the leaders in internationalisation of studies.
Admissions to our study programmes in English are open.
Learn more: www.civitas.edu.pl/en/admissions/choose-your-course