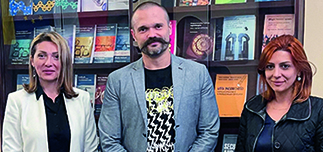 Professors Gohar Avetisyan and Karine Sargsyan, from the European University of Armenia, visited Collegium Civitas from May 15th to 19th, 2023, as part of the Erasmus+ program.
During their visit, the professors delivered a series of lectures, shedding light on problem-solving, decision-making in diplomatic processes, and effective leadership, all of which resonated with the audience.
Our guests also attended meetings with the prorector Vice-Rector for Academic Affairs Roland Zarzycki, PhD, PhD and shared experience in quality assurance. Additionally, they had the opportunity to engage in a fruitful discussion with, Katarzyna Maniszewska, PhD – Vice-Rector for International Relations at Collegium Civitas. This meeting served as a platform to explore exciting avenues for future collaboration between these two institutions.
The European University of Armenia, established on October 15, 2001, remains committed to excellence. It proudly holds membership in the European Association of Institutions in Higher Education (EURASHE) since 2018. EURASHE, founded in 1990, plays a vital role in fostering global integration among higher education institutions within the European educational landscape.