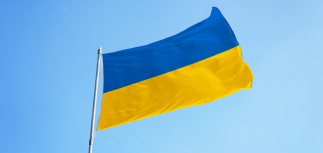 Collegium Civitas is launching studies with a one-year bridging program in Ukrainian to encourage young people from Ukraine to start their studies in Poland. Participants will be able to study for a year in Ukrainian, and then continue their studies in the second year of studies, on a fully Polish-language path. The offer covers two fields of study: International Relations and Management. Recruitment starts on April 26!
"Students from Ukraine have been studying at Collegium Civitas for over a dozen years. This academic year, nearly 400 young people from Ukraine study in Polish or English." – explains the Rector of Collegium Civitas, prof. Stanisław Mocek, adding that "in a situation where, since the beginning of Russia's aggression, more than 2 million refugees from Ukraine have already crossed the Polish-Ukrainian border, and some of them will or will have to stay longer in our country, helping these people to function normally is extremely important. Hence, the idea to organize studies with a one-year bridging program in Ukrainian."
Until now, students from Ukraine have been very eager to choose two fields of study from Collegium Civitas offer: International Relations and Management, which is why the new proposal applies to these programs.
It is worth emphasizing that this is an offer for people who want to start their first-cycle studies (bachelor's degree) at Collegium Civitas. Studies with a one-year bridging program will be preceded by a Polish language course, under which Participants will improve and consolidate their knowledge of the language, which in the future will allow them to freely continue their studies conducted entirely in Polish.
"The studies offered at Collegium Civitas with a one-year bridging program are in line with the vision of the highest quality standards in education, and are implemented in an international academic environment open to people coming  from all over the world.  In the face of the tragic events behind the eastern border of Poland, we are expanding our offer to make it available also to people who currently do not speak Polish or English, and who want to continue their education at the same time. We believe that in this way we can support the education of the young generation of Ukrainian women and Ukrainians, whose role in the reconstruction of the war-torn homeland cannot be overestimated" – adds the Vice-Rector for Academic Affairs, Dr. Roland Zarzycki.
Among the administrative staff and academic teachers of Collegium Civitas, there are already Ukrainian citizens who will support the project from the administrative and organizational side. As Vice-Rector Zarzycki emphasizes, the University is open to employing additional lecturers who, like students, fled Ukraine before the war and could conduct classes at Collegium Civitas during the one-year bridging program in Ukrainian.
Since the beginning of the war in Ukraine, Collegium Civitas has been actively supporting students from Ukraine, as well as their families. Was established, inter alia, a team whose task is to monitor the situation, respond to the needs reported by students of Collegium Civitas of Ukrainian origin and provide various forms of support – financial, psychological or in the fields of teaching.
Inspired by the academic community, Collegium Civitas also decided to establish a special Fund to Help Students, Students and Employees of Collegium Civitas and their families from Ukraine. "We want all ideas to be created in close cooperation with our current Students as leaders – they know best how to help their colleagues." – adds Rector Mocek, emphasizing that members of the Collegium Civitas community help refugees from Ukraine not only within the walls of the University, but also, for example, by co-organizing charity donations or supporting the activities of the Copernicus Science Center as part of volunteering projects.
Collegium Civitas is a university that has been educating specialists in social and political sciences, management, marketing and security for 25 years. It is one of the leaders in internationalization in Poland and has been ranked in the top ten of the best non-public universities in the country for 20 years. The high quality of education in all fields of study is confirmed by positive assessments of the Polish Accreditation Committee. Agreements and double diplomas with foreign universities, cooperation with many entities from the business environment, administration, media and non-governmental organizations open up broad career prospects for Collegium Civitas graduates on the local and international market. The full educational offer of Collegium Civitas is available at www.civitas.edu.pl/en