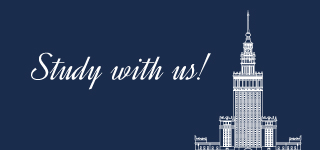 The admission for the spring semester 2020/2021 to our study programmes in English has already started! Study at Collegium Civitas and experience the highest quality of teaching in a multicultural learning community. With us you can study International Relations, Media, Diplomacy, Management, International Business, Security, Marketing, Digital Commerce and more!
For the summer semester you can enroll in the Bachelor's and Master's programmes in English:
International Business and Marketing
International Relations
Media, Diplomacy and International Negotiations
New Media and Journalism
Business Management
Digital Marketing
International Business Management
Public Relations, Marketing, New Media
Sociology
International Business and Negotiations
International Relations
International Security Studies
Sociology
Social Media Management and Digital Commerce
You can download the academic offer in PDF format: Collegium Civitas Academic Offer Spring 2021.
For international candidates the winter admissions deadline is February 1st, 2021.
Due to the time-consuming visa procedures resulting from the number of candidates interested in studying in Poland we strongly encourage candidates from South Asia, MENA and African countries to apply not later than January 8th, 2021.
For Polish residents or foreigners who have been granted a residence permit to settle in Poland (Karta Pobytu) the admissions deadline is February 12th, 2021.
Please, kindly note that the number of study places at Collegium Civitas is limited. We cordially invite you to apply as soon as possible!
The online application form is available at: https://admissions.civitas.edu.pl
For all the inquiries related to the admissions procedure please visit the website: civitas.edu.pl/en/admissions/admissions-procedure and/or contact our Admissions Office: admissions@civitas.edu.pl
And, if you already are Collegium Civitas student – take a look at the promotional programme "Invite a Friend" – become our ambassador and get a discount in tuition fee!
More information on "Invite a Friend" promotion can be found at: www.civitas.edu.pl/en/admissions/promotions/invite-a-friend-promotion