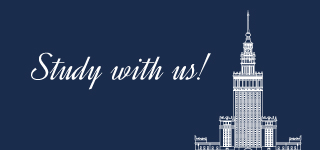 The admission for the spring semester 2022/2023 to our study programmes in English is open. Study at Collegium Civitas and experience the highest quality of teaching in a multicultural learning community. With us you can study International Relations, Media, Diplomacy and International Negotiations, New Media and Journalism, International Business and Marketing, Digital Marketing, Sociology, Security Studies and more.
For the spring semester of 2022/23 academic year you can enroll in the Bachelor's degree programmes in English in four main disciplines: Sociology, International Relations, New Media and Journalism, Management and in Master's degree programmes in Sociology and International Relations.
All of our programmes are tailored to meet the expectations of both – students and their future employers. Solid theoretical background is combined with the practical approach. In addition, at Collegium Civitas you can apply for the Erasmus+ scholarship and spend part of your study programme at one of our partner universities across Europe.
Among our faculty are former diplomats, journalists, renowned experts and practitioners. Collegium Civitas is a member of the International Association of Universities and the Conference of Rectors of Academic Schools in Poland. We have over 100 partner universities around the world and our students come from 70 countries.
Take a look at the full academic offer for the spring semester 2022/23:
The spring semester 2022/23 starts on February, 14 (registration to courses), classes start on March 1. For international candidates the winter admissions deadline is February 3, 2023.
Due to the time-consuming visa procedures resulting from the number of candidates interested in studying in Poland we strongly encourage candidates from South Asia, MENA, and African countries to apply no later than January 16, 2023.
Please, kindly note that the number of study places at Collegium Civitas is limited. We cordially invite you to apply as soon as possible!
Good luck to all the Candidates!