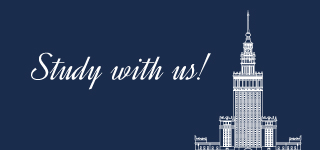 Would you like to work for a large advertising agency in the future? Or perhaps you already run your own blog or YouTube channel and would like to polish your skills under the supervision of specialists?
The admissions to our study programmes in English are open and for the academic year 2021/2022 we prepared over 20 programmes, including Multimedia Communication.  This Bachelor's degree programme is aimed at enthusiasts of new media, marketing, advertising & creating great content.
Study Multimedia Communication and begin your adventure building a brand image on the web. Explore practical skills such as: independent production video material, business-oriented project planning, creating written content and many more. Take the knowledge from professionals who have set the highest standards and contributed to current trends and rapid changes!
The recruitment is still open. Do not hesitate and send your application to: admissions@civitas.edu.pl or use our online application admissions.civitas.edu.pl/default.aspx
More information about the programme: www.civitas.edu.pl/en/academic-offer/multimedia-communication-ba-full-time-english