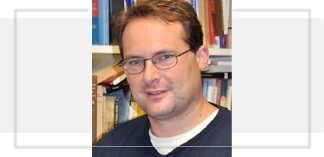 On November 22 (Monday) at 4.30 PM CET  Collegium Civitas organizes an online lecture by Professor Eric Kurlander from Stetson University. The online meeting will be devoted to his book "Hitler's Monsters. A Supernatural History of the Third Reich, 1919-1945". Prof. Kurlander is a renowned American historian, at Stetson he teaches courses on modern German, European and world history. The Professor is visiting Collegium Civitas under the Fulbright Global Scholar program.
The Nazi fascination with the occult is legendary, yet today it is often dismissed as Himmler's personal obsession or wildly overstated for its novelty. Preposterous though it was, however, supernatural thinking was inextricable from the Nazi project. The regime enlisted astrology and the paranormal, paganism, Indo-Aryan mythology, witchcraft, miracle weapons, and the lost kingdom of Atlantis in reimagining German politics and society and recasting German science and religion.
In his book Prof. Kurlander reveals how the Third Reich's relationship to the supernatural was far from straightforward. Even as popular occultism and superstition were intermittently rooted out, suppressed, and outlawed, the Nazis drew upon a wide variety of occult practices and esoteric sciences to gain power, shape propaganda and policy, and pursue their dreams of racial utopia and empire.
"[Kurlander] shows how swiftly irrational ideas can take hold, even in an age before social media." wrote Michael Dirda, The Washington Post
We cordially invite Collegium Civitas students and faculty to register for the webinar: https://zoom.us/webinar/register/WN_MAgEVUM_Tw65I0lgvMt85w
After registering, you will receive a confirmation email with information about joining the webinar.