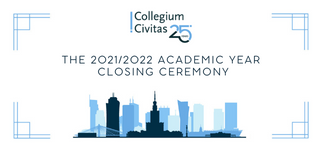 On Friday, June 10, the Academic Year Closing Ceremony was held for the 25th time in the history of Collegium Civitas. In the gardens of Dom Polonii at Krakowskie Przedmieście 64, representatives of the entire University community gathered to sum up the passing nine months.
The speakers at the ceremony included: Rector, Prof. Stanisław Mocek, who emphasised that "The most important thing is that (…) we can be together and support each other. This was the case during the pandemic and Russian aggression in Ukraine. We are an academic civic micro-community, sensitive to basic human values, openness to the world, sense of freedom and human rights. I am glad that the Collegium Civitas we created is different; it is ours. Thanks to the effort and everyday work we all put in, I feel immense satisfaction that it is happening. And let us wish, may it always be so."
The Vice-Rector for Student Affairs, Dr Paweł Maranowski, took the floor thanking everyone for their work and time spent together, emphasising the role of students active in the Student Government, university committees and all student organisations. He also appreciated the help and support of the Faculty and Administrative Staff involved in student initiatives and assisting Students.
The Vice-Rector for International Relations, Dr Katarzyna Maniszewska, addressed the international community of Collegium Civitas, emphasising the enormity of the challenges faced in the passing academic year by the Collegium Civitas students. She added that in this exceptional, difficult time that we have to face this academic year, the Collegium Civitas community has again shown that it holds concepts such as solidarity, volunteering and integration in high regard.
Apart from the official speeches of the Rector's Team and the Chairwoman of the Collegium Civitas Student Government Board, Alina Palamarchuk, the guests also enjoyed attractions prepared by the Students of our University. The latter actively participated in organising the event. In addition to musical performances and a sports show, they also conducted live interviews with representatives of student organisations. The moderators of the event were: Monika Adamska, Collegium Civitas graduate (and podcaster at Leżakowanie – podcast created by CC students) and Nathaniel England, Representative for Foreign Students, Student Government Board Collegium Civitas.
Thank you all for participating in the event!