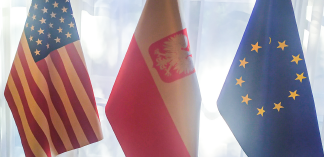 The Fair of Polish Universities in New York took place on October 22-23.
Collegium Civitas was represented by Maciej Krzyczkowski – Head of the International Cooperation and Promotion Department. During the meetings with Polish youth at the Consulate General of the Republic of Poland, the offer of studying at Collegium Civitas was presented – both in English and Polish. The event was very popular. For two days of the fair, not only Polish school classes, but even whole families came to see the possibilities of education in Poland. Most applicants asked about undergraduate studies, but visitors also appreciated the West Virginia University double degree program and the possibility of obtaining two degrees – Polish and American.
During the fair, a film recorded by a graduate of International Relations, Ms. Maia Cygielska, was presented. Candidates and their families were eager to watch the video, and all the arguments presented in it reached the recipients.
The Polish University Fairs in New York were widely reported by the Polish media, American correspondents and national newspapers, portals, radio and television.
The event was organized by the National Agency for Academic Exchange in cooperation with the Consulate General of the Republic of Poland in New York.
The photos from the ceremony were taken by Marcin Żurawicz.