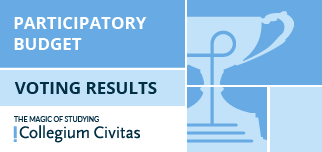 We present the list of foundations that received the most votes from students voting under the Participatory Budget 2020/2021.
This year's funds from the Participatory Budget will be allocated to foundations dealing with the education of children, students and seniors.
The foundations which received the highest support was:
Your Passion Foundation (https://fundacjatwojapasja.pl/)
Foundation for Somalia (https://fds.org.pl/)
The Ja Wisła Foundation.( https://jawisla.pl/)
Funds from the Participatory Budget 2020/2021 will be distributed as follows (implementation until September 30):
1st place – will receive 5,000 PLN
2nd place – will receive 4,000 PLN
3rd place – will receive 3,000 PLN
Congratulations!
We would like to thank all Collegium Civitas students for their commitment to the next stages of the implementation of this year's Participatory Budget – both for submitting entities and participating in voting.