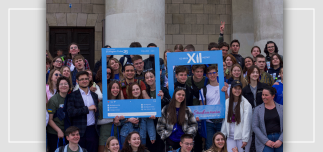 In April, Collegium Civitas had the pleasure of hosting a group of sixty-six young Ukrainians participating in the Ukrainian Academy of Leadership program. This visit was part of their broader European journey, organized under the leadership of Katarzyna Anna Przybyła, Collegium Civitas lecturer in collaboration with the Ukrainian Leadership Academy, Romanian Peace Institute PATRIR, and Un Ponte Per, an Italian-based humanitarian organization. The primary objective of the visit was to strengthen cooperation between Europe and Ukraine while providing support to young individuals affected by the conflict in Ukraine.
As part of this ongoing project, future activities will involve online meetings such as webinars focusing on the conflict and potential support initiatives, workshops, and gatherings in various countries. These events will include visits to national and European institutions and organizations. Additionally, there are plans for young Europeans to visit Ukraine, fostering cross-cultural exchange and understanding.
The project seeks to promote collaboration, offer assistance, and work towards peace in the region. By engaging in these diverse activities, the participants aim to make a positive impact and contribute to the ongoing efforts for a better future.