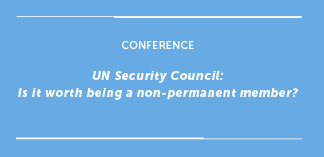 The conference "UN Security Council: Is it worth being a non-permanent member?" was held by Collegium Civitas in partnership with the Swiss Embassy in Poland on November 19.
The conference program was composed of two discussion panels: one with diplomats, the other with international experts.
The following diplomats and experts shared their knowledge and experience: H.E. Jürg Burri, Ambassador of Switzerland to Poland, H.E. Emer O'Connell, Ambassador of Ireland to Poland, Mariusz Lewicki, Deputy Director at the Department of United Nations and Human Rights, Ministry of Foreign Affairs of Poland, Joanna Weschler, UN Security Council and human rights expert, Marcin Bużański, international affairs expert, lecturer at Collegium Civitas, Agnieszka Bieńczyk-Missala, lecturer and researcher at the University of Warsaw.
The meeting has been hosted by Katarzyna A. Przybyła, Head of the Strategic Peace and Conflict Studies master's degree program at Collegium Civitas.
To hear more details and interesting conclusions please see the video recording of the conference.
Learn more about SPACS: https://www.civitas.edu.pl/en/academic-offer/strategic-peace-and-conflict-studies-ma-full-time-english