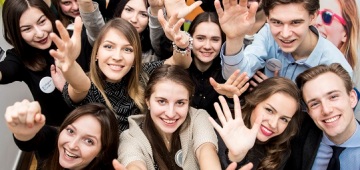 Dear Students!
Collegium Civitas is delighted to meet new students of Academic Year 2018/2019 in the spring semester at Adaptation Days which are going to be held from 25th of February, 2019! We are providing you the agenda of the mandatory meetings:
OHS (OCCUPATIONAL SAFETY AND HEALTH) TRAINING:
25.02.2019 (Monday) from 14:00-15:00 aula C
PARTICIPATION IS MANDATORY
ORGANIZATIONAL MEETING WITH AUTHORITIES AND ADMINISTRATION STAFF:
25.02.2019 (Monday) from 15:00-16:00  aula C
You will meet:
prof. Jadwiga Koralewicz – President of Collegium Civitas
dr Katarzyna Maniszewska – Vice-Rector for International Relations
dr Agnieszka Nitza-Makowska – Acting Director of Department of Social, Political and International Studies in English
dr Paweł Maranowski – Vice-Rector for Students Affairs
Beata Rembecka – Senior Officer for Studies in English
Karolina Madyjewska – Senior Specialist for Academic Affairs
Anita Potrząsaj – Erasmus+ Coordinator
COLLECT YOUR STUDENT ID
Student ID cards are going to be distributed after the meeting on 25.02.2019 (Monday). You can also collect your student ID card after 25.02.2019 during office hours of International Office 12:00-16:00, room 1108.
25.02.2019 (Monday) after the organizational meeting  aula C –  WELCOME TEA  – short meeting with students (tea, coffee & cookies ) and please find attached more info about other activities!
LIBRARY TRAINING:
01.03.2019 (Friday) at 15:00 aula C
PARTICIPATION IS MANDATORY