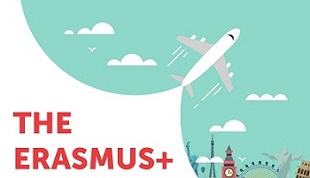 Collegium Civitas supports traineeships (work placements, internships, etc) abroad within Erasmus+ programme for students at Bachelor and Master level. These opportunities are also open to recent graduates.
By doing a traineeship abroad with Erasmus+, you can improve not only your communication, language and inter-cultural skills, but also soft skills highly valued by future employers, as well as become more entrepreneurial.
Your traineeship abroad can last from a minimum of 2 months to a maximum of 12 months.
You can benefit of an exchange abroad with Erasmus+ multiple times, either as a student or as a trainee, but your total time abroad (study abroad periods included) may not exceed 12 months within one cycle of study.
You can also go for a traineeship abroad as a recent graduate. In this case, your traineeship must occur within one year of your graduation and you must apply while still being enrolled in your higher education institution.
Your traineeship must be relevant for your degree-related learning and personal development needs and, wherever possible, be integrated in your study programme.
You may carry out a traineeship at any organisation in an Erasmus+ Programme Country (with the exception of EU institutions, bodies and agencies).
You may receive an Erasmus+ grant as a contribution to your travel and subsistence costs and extra funding is available for traineeships. It may vary according to differences in living costs between your country and the destination country.
Watch the inspirational movie 🙂
How to apply?
Required documents:
application form for taineeships / available on wu.civitas.edu.pl
cv – Europass / http://www.europass.org.pl/ available on wu.civitas.edu.pl
cover letter (max. 1 page)
social activities and candidate's experiences – activities in CC (optional)
language certificate (min. B2, CEFR)
photo and a copy of student ID card
acceptance letter from the company where you plan to have your internship (template available on wu.civitas.edu.pl)
Applications should be submitted personally through the International Affairs and Promotion Office – room 1108 to:

Anita Potrząsaj
Erasmus+ and International Exchange Coordinator
anita.potrzasaj@civitas.edu.pl
+48 6567160
Application deadline: 30 April 2019
*the deadline may be prolonged in case financial support is still available
Make sure you know your rights when you study or do a traineeship abroad.
The Erasmus Intern Traineeship Portal, developed by the Erasmus Student Network, can help you find an Erasmus+ traineeship.
Students with further questions about taking part in Erasmus+ should check the frequently asked questions before contacting their institution or their National Agencies for Erasmus+ Programme countries.
The ESAA – Erasmus+ Student and Alumni Association offers Erasmus+ students and alumni a dynamic forum for networking, professional development and intercultural exchange.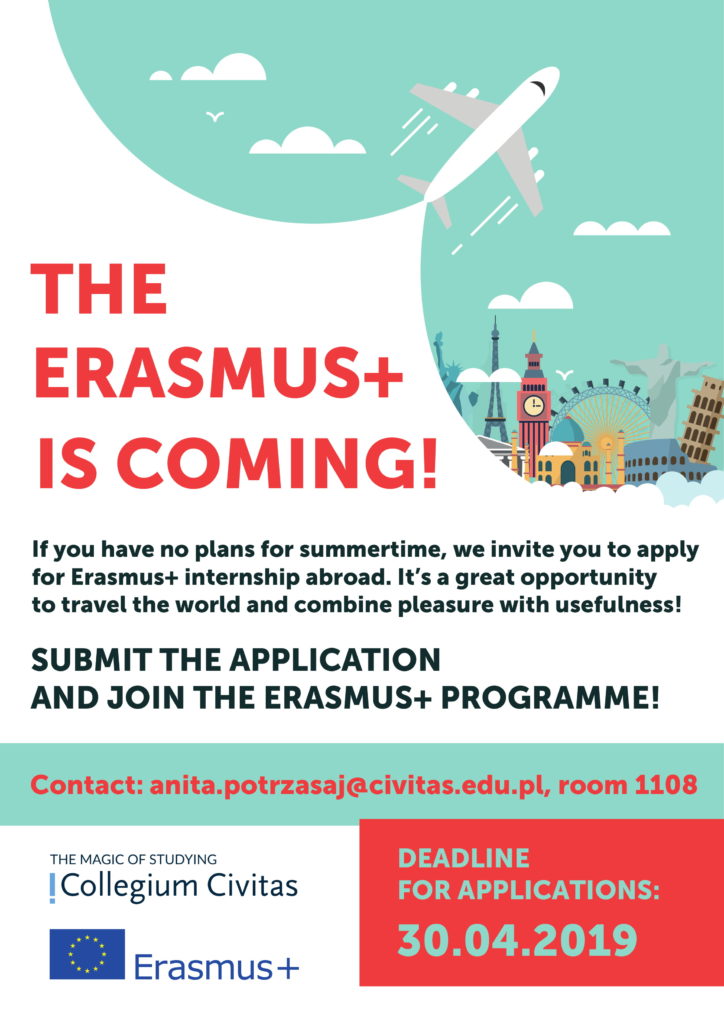 Source: European Commission [https://ec.europa.eu/programmes/erasmus-plus/opportunities/trainees_en]