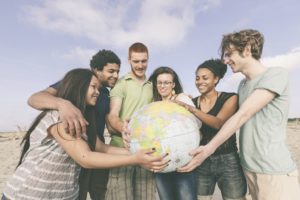 Collegium Civitas students are invited to submit their applications to the 2nd Bali Democracy Student Conference (BDSC) which will be held in Bali, Indonesia on 6-7 of December 2018. Application deadline is 31 of October.
BDSC is a student conference on democracy that will be held simultaneously with the Bali Democracy Forum (BDF) in Bali, Indonesia. The participants are expected to have an intensive discussion on democracy from student's perspectives through various discussion panels. It is expected that the 2nd BDSC will be attended by 150 international students.
Any interested student is encouraged to apply for participation in the conference. The BDSC Committee and the Indonesian Embassy in Warsaw will select eligible students to participate in the conference. For the selected participants, the committee will provide the following:
1. Hotel accommodation (twin sharing)
2. Local transport (airport-hotel-venue)
3. Meals
The requirement to participate in the 2nd BDSC are:
1. Undergraduate or Postgraduate students from Social and Political Science, Law, Communication, Cultural and Linguistic, and Economics.
2. 21-28 years old
3. Good English skill
4. Interested in social and political issues
5. Active in student organization
6. Actively engage in social media
Candidates for participation are expected to send their application with the following documents:
1. Application letter
2. Curriculum Vitae
3. Recommendation letter from student's university
4. Copy passport
5. Photo (4×6 cm, colour)
The application should be sent directly or via post to the Indonesian Embassy, Ul. Estonska 3/5, 03-903 Warsaw and by email to: info@indonesianembassy.pl before 31 October 2018.