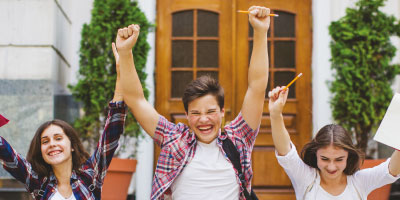 Admissions are open and there is a 10% discount for Early Birds! Collegium Civitas offers a variety of academic programmes in English. With us you can study Management, International Relations, Journalism, Sociology and become an expert in Marketing, Diplomacy, Public Relations, New Media, International Business, Security and many more.  Collegium Civitas is fully prepared for online teaching in case of prolongation of the coronavirus related restrictions (all courses at our university are conducted online at the moment).
Our "Early Birds" promotion is aimed at candidates who are starting their full or part-time Bachelor's (licencjat) or Master's (magister) programmes at Collegium Civitas in the 2020/2021 academic year. Take a look at our offer of studies in English:
The "Early Birds" promotion entitles the applicant to a 10% discount in their fees for the first semester of their Bachelor's or Master's programme, provided that the candidate starts their studies in the winter semester of 2020/2021.
In order to benefit from this promotion all relevant documents need to be submitted to the Admissions Office during the promotion – until June 30, 2020, all admission procedures need to be completed, and the fees paid.
You can find the Rules of the promotion at: www.civitas.edu.pl/en/admissions/promotions