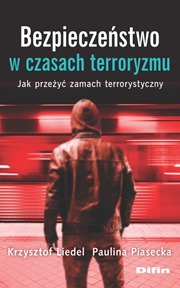 The Collegium Civitas Centre for Research on Terrorism warmly invites you to a seminar with Krzysztof Liedel, specialist in the field of international terrorism and counterterrorism, and Paulina Piasecka, specialist in asymmetrical threats, including terrorism and information warfare.
Liedel also holds a PhD in security management, as well as being a lawyer and expert in information analysis. As for Piasecka, she is also an analyst and specialist in cyberspace security.
Both experts are authors of a new book, Safety in Times of Terrorism: How to Survive Terrorist Attack, and will talk about symptoms of danger, rules of behaviour in an emergency situation, first response and a variety of other related issues.
The seminar will be held on 28 March, 5 pm, at the Prus Main Scientific Bookshop, 7 Krakowskie Przedmieście St, Warsaw.
Please note that event will be held in Polish.