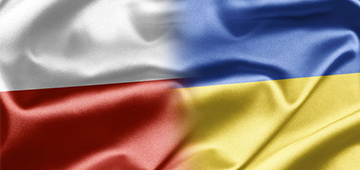 Does the present or the past shape identification with the national community? How do the governments of Poland and Ukraine conduct policies of remembrance? Relations between public opinion, historians, education, media and politics will be discussed by the participants of the conference "New research on historical cultures of Poland and Ukraine: public opinion, media, politics".
The event will take place on 15 May 2018 between 3 and 8 pm at Collegium Civitas in the Palace of Culture and Science, 12th floor in Lecture Theatre A. Admission is free of charge.
Images of the past play an increasingly important role in identifying with one's own national community and in the mutual perception of Poles and Ukrainians. According to researchers, the image of our eastern neighbours is, unlike no other country, particularly strongly influenced by historical conflict.
During the conference, participants will present the results of quantitative research on the collective memory of Poles and Ukrainians, which was conducted in January and February 2018 in Poland and Ukraine. Researchers will discuss the hypotheses and conclusions formulated after the closure of the first part of the project, which will verify popular beliefs in Poland about how individual events in the history of the 20th century are perceived and evaluated by contemporary Ukrainians.
The topic of collective memory of Poles and Ukrainians will be discussed by researchers: Dr (hab.) Joanna Konieczna-Sałamatin from the Institute of Sociology, University of Warsaw, Prof. Yuri Matsiyevsky from Ostroh Academy National University, Prof. Andrzej Szpociński from Collegium Civitas and Prof. Włodzimierz Mędrzecki from the Institute of History of the Polish Academy of Sciences.
The panel discussion will be devoted to the role of media and politicians in shaping public images of the past in Poland and Ukraine and relations between them. The panel session will be attended by Prof. Tomasz Stryjek from Collegium Civitas, Dr (hab.) Małgorzata Grajper-Głowacka from the Institute of Sociology of University of Warsaw, Andrii Portnov, PhD, from Viadrina University in Frankfurt, Volodymyr Sklokin, PhD from the Ukrainian Catholic University and Marek Troszyński, PhD, from Collegium Civitas.
We invite scientists, historians, political scientists, cultural experts, institutions and people interested in Ukraine and Polish-Ukrainian relations to take part in the event.
The event is organized as part of the project "Historical cultures in the process of change: reconciliation of memory, history and identity in modern Central and Eastern Europe" and is financed by the National Science Centre.
Everyone is warmly invited!
Please note that the event will be held in Polish.