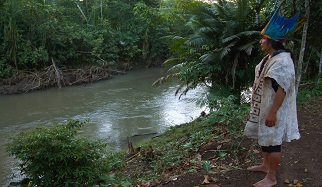 Collegium Civitas cordially invites you for a screening of the documentary "The Curse of Abundance" directed by one of the leading Polish journalists and filmmakers Ewa Ewart. The movie will be followed by a discussion with Mrs. Ewart and experts: Dr Roland Zarzycki, Vice-Rector for Academic Affairs, Collegium  Civitas and Dr Piotr Łaciński, Director of the Latin America and Caribbean Research Centre at Collegium Civitas. The event will take place on March, 22 (Friday) at 17.30 at Collegium Civitas, Palace of Culture and Science, 12th floor, aula (lecture hall) A. The movie features English subtitles.
The film uncovers Ecuador's battle to reconcile its green ambitions with tough economic realities – a dilemma which resonates with the entire world.  In 2007, Ecuador, a South American oil rich country, launched a daring initiative to leave some of its Amazonian oil reserves in the ground in exchange for financial compensation from the international community. It was a revolutionary idea to save one of the Earth's most vital ecosystems and two uncontacted indigenous tribes. The proposal centred on the Yasuni National Park which contains a third of Ecuador's oil reserves. It was a revolutionary idea to address climate change, but it turned out to be ahead of its time and struggled to take off.
In late 2017 the government of Ecuador started a new phase of drilling in the most pristine part of Yasuni, triggering new waves of protest. For the first time " The Curse of Abundance" reveals the full drama of the failed Yasuni initiative which has far-reaching global as well as regional repercussions. Yasuni has also become a microcosm of some of the most pressing environmental issues on the planet. In the heart of the Ecuadorian rainforest the stage has been set for an urgent global debate about economic development, sustainability and climate change. It is ultimately a question of our survival.
The film poses two key questions, which are even more relevant today then ever before. Should we leave the oil in the ground? And what are the risks of not being prepared to embrace such a radical mind-shift given the environmental cost of continuing to extract oil all over the world?
For more information, please visit: http://thecurseofabundance.com/