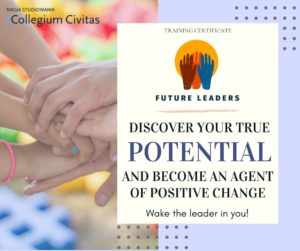 Youth for Peace – one of the student organizations at Collegium Civitas – is pleased to announce its first training workshop facilitated by the passionate about personal development trainer Renata Constable from Leadership Vision Consulting that is based in Minnesota, USA.
This workshop is geared for students who are passionate about working in the field of social change and development.
The training is FREE of charge and will be held Mondays starting on 23rd of March till 13th of April 2020 (every Monday: 14:30-15.30).
Students who are interested in attending MUST commit to attending all four sessions.
The sessions will be held in English.
If you are interested in becoming a future influencer, please email youthforpeace@civitas.edu.pl
The DEADLINE for the application is 1st of March 2020.