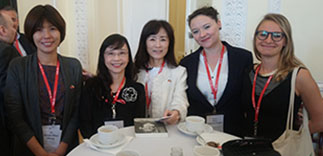 On Friday, September 16 this year, an interesting event took place at the Staszic Palace – the headquarters of the Polish Academy of Sciences in Warsaw – aimed at exchanging experiences, networking and establishing long-term cooperation with universities and other scientific institutions from Taiwan. Despite the geographical distance and apparent cultural differences, we found many common themes and similarities, which will probably become a good reason to start new international research, student and academic staff exchanges. 
During the meeting, representatives of Polish and Taiwanese universities presented their achievements in scientific research and discussed the possibilities and priorities of future academic and scientific cooperation between Taiwan and Poland. Also presented were various examples of activities undertaken by the academic and scientific community within the framework of Polish-Taiwanese cooperation, including the implementation of joint scientific and research projects.  
Our University was represented at the Forum by Dr. Katarzyna Anna Klimowicz from Collegium Civitas International Cooperation and Promotion Department. We hope that soon our offer under the Erasmus+ program will expand to include new directions of exchange between Collegium Civitas and our new partner universities in Taiwan. 
Organizers:  
National Agency for Academic Exchange (NAWA) and Foundation for International Cooperation in Higher Education of Taiwan (FICHET).