H.E. Urasa Mongkolnavin, the Ambassador-Designate of the Kingdom of Thailand to Poland visited Collegium Civitas
06.02.2023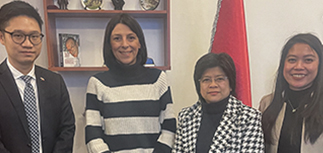 On February 03, 2023, Collegium Civitas was visited by H.E. Urasa Mongkolnavin, the Ambassador-Designate of the Kingdom of Thailand to Poland. The visit was an opportunity to discuss collaboration in the field of research, teaching and exchange program between Polish and Thai academia.
Madam Ambassador-Designate, the First Secretary of the Embassy Mr. Dulanit Pankasemsuk and the Second Secretary of the Embassy Mrs. Nopasi Niyamabha met with Dr Katarzyna Maniszewska, Vice-Rector for International Relations. Dr. Maniszewska showed our university to the esteemed guests and explained the history and current development of Collegium Civitas.
The meeting was a valuable opportunity to discuss the role of higher education in strengthening the good relations between Poland and Thailand.
Collegium Civitas is one of the leaders in the internationalization of education in Poland. Almost 70 countries of the world are represented among the student body – that includes students from Thailand who study International Relations. For the spring semester of 2023 diverse activities and educational events are planned at Collegium Civitas to showcase the countries and the cultural diversity our students represent.