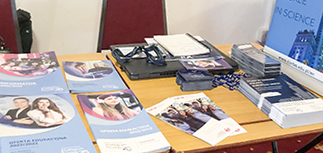 On November 5-6 the Fair of Polish universities took place in London, in the Polish Social and Cultural Association POSK. The event was organized by the National Agency for Academic Exchange (NAWA) in cooperation with the Embassy of the Republic of Poland in London.
Collegium Civitas was represented by Ms. Ilona Głowacka International Cooperation and Promotion Senior Specialist.
"The candidates were pleasantly surprised by Collegium Civitas offer of not only Polish and English programmes, but also mixed: Polish-English" – says Ms. Głowacka.
The fair was attended by student candidates and their family members from the Polish community in the UK. Among the participants there was a PhD alumna from the Polish Academy of Sciences who remembered the beginnings of our university (Collegium Civitas was founded by a group of professors from the Polish Academy of Sciences)
"An important factor, appreciated by the candidates is the participation of Collegium Civitas in the Erasmus+ programme, it opens the doors to international experience – semester or a year abroad at one of our partner universities" – adds Ms. Głowacka.
We hope to welcome more candidates from the UK to our academic community soon!