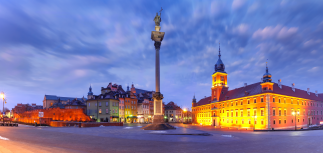 We invite you to test your knowledge about Poland! We prepared a short quiz for our international students and student candidates from around the world. Don't worry if you don't get all the answers right. We hope you will be interested in exploring our country during your studies at Collegium Civitas in Warsaw!
The admissions for the academic year 2022/2023 are open and we prepared over 20 degree programs in English: Academic Offer 2022/2023 (PDF file).
We invite you to take this short interactive quiz 🙂
Study at Collegium Civitas and experience the highest quality of teaching in a multicultural learning community! With us you can study International Relations, Media, Diplomacy and International Negotiations, New Media and Journalism, International Business Management, Digital Marketing, Sociology, Strategic Peace and Conflict Studies in cooperation with the United Nations Institute for Training and Research (UNITAR) and more.
Our university is known for the high level of internationalization. Students from 70 countries of the world study with us! We are a member of the International Association of Universities, Magna Charta Universitatum, European School of Sustainability Sciences and Research network and hold the accreditation "Journey to Changemaker" awarded by the international Ashoka organization, the Erasmus+ Charter for Higher Education and we have over 100 partner universities from the world.
More information:
Bachelor's degree programmes: https://civitas.edu.pl/en/academic-offer/disciplines-and-specialisations-ba-in-english-full-time
Master's degree programmes: https://civitas.edu.pl/en/academic-offer/disciplines-and-specialisations-in-english-ma-full-time