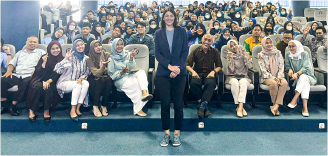 Between December 2022 and January 2023 Dr Katarzyna Maniszewska, Vice-Rector for International Relations visited partner universities in Indonesia. Dr Maniszewska held a series of lectures on security issues at Politeknik Negeri Malang (POLINEMA), participated in the international seminar "Economic Consequences of Terrorism" at University of Mataram and took part in numerous meetings with leadership and faculty of partner universities. During the visit Memorandums of Agreement were signed with both universities.
The visit was organized within the framework of the European Union funded project "University 4.0 – modern development program of Collegium Civitas".
The lectures at POLINEMA, focused on cybersecurity, ethics in journalism, media literacy and information warfare, were attended by students, faculty members but also by young local entrepreneurs as well as teachers from the city of Malang.
"With partners from POLINEMA and the University of Mataram we have developed an outline of joint projects in teaching and student exchange." – says Dr Maniszewska.
In addition, in Mataram she met with representatives of the Office of the Governor of West Tenggara Nusa Province. "The Office of the Governor runs a scholarship program whose beneficiaries study in Europe, among other universities at Collegium Civitas. During the fruitful meeting, further steps were discussed to strengthen the partnership. And, we look forward to welcoming new students from Indonesia at Collegium Civitas" – explains Dr Maniszewska.
At the end of her visit, in Jakarta Dr Maniszewska held a research interview for her new book with Dr. Dino Patti Djalal, an outstanding expert on international relations and security, head of the Foreign Policy Community of Indonesia and former ambassador of this country to the USA.