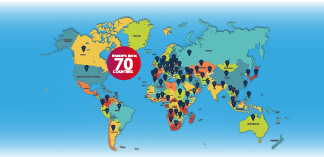 Collegium Civitas is known for its high level of internationalisation. Almost 30% of our students are international students and we are proud to say that this year 70 countries are represented among our student body.
"The international environment gives the students not only unique networking opportunities, but also enhances the learning process. We are proud that more and more students from all over the world are joining our academic community" – says Dr Katarzyna Maniszewska, the Vice-Rector for International Relations.
Collegium Civitas students come from Europe, North and South America, Asia, Africa and Australia. Among the countries are: Ukraine, EU countries, UK, Uzbekistan, Kazakhstan, Kirgizstan, Azerbaijan, Indonesia, Vietnam, Japan, India, Ecuador, Brazil, Colombia, Argentina, Australia, South Korea, China, Mongolia, Morocco, Lebanon, Ethiopia, Philippines, US, Canada, Israel, South Africa, Zimbabwe, Kenya, Tanzania, Rwanda and many more!
At Collegium Civitas international students can choose from a variety of bachelor's and master's degree programmes conducted in English: International Relations, Sociology, Journalism and New Media and Management.
"Collegium Civitas offers programmes tailored to the needs of the job market and addressing the current challenges in the world. Among our programmes candidates will find: International Peace and Conflict Studies, run together with the United Nations Institute for Training and Research, Security Studies, Digital Society: Transformation and Research, Media and Diversity Studies, Sustainable Manager, International Business and Negotiations – to name just a few." – explains Mr. Maciej Krzyczkowski,  Head of International Cooperation and Promotion Office.
The survey conducted recently among the students showed that 90% of students are satisfied with their studies at Collegium Civitas. The admissions for the new academic year are open. More information: Study with us!